Please find a list of businesses run by our members in Australia and New Zealand.
If you are a member of BJSM and running a business, please submit the form with all details of your activities. Publication of any submission is subject to successful verification by local chapters and their approval.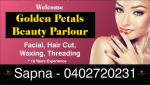 Short Description
Beauty salon services in Craigieburn for Ladies
Description
We provide beauty salon services in Craigieburn (Melbourne, VIC). For ladies only.
We have more than 12 years of experience and excellent customer service record.